Ground Protection Ireland is an Irish-owned and operated company specialising in temporary access solutions and surface covering systems.
We offer 24/7 delivery and installation of plastic and aluminium ground mats, roads and walkways, designed to protect and preserve even the most vulnerable indoor and outdoor surfaces. From marshlands to dense forests and bogs, our access and bridging systems allow people, heavy-duty vehicles, and machinery to safely navigate even the toughest terrains.
Every project is unique, which is why we offer four core products that are designed to meet a wide variety of needs:
In this series, we take a closer at each of them outlining the key features, benefits, common uses, and environmental aspects of each one, concluding in this article with our Ground Mats.
Ground Mats – Temporary Access For Pedestrians, Vehicles And Machinery
Key features of Ground Mats
Ground Mats provide an endlessly versatile and robust support base for temporary walkways, enabling pedestrians, cars, and commercial vehicles to access and traverse uneven terrain and challenging ground conditions.
Made of a light but resilient high-density plastic, the mats provide maximum protection across a variety of terrains, from mud, sand and grass to tarmac and landscaped turf. Depending on the site conditions, the mats are capable of sustaining loads of up to 80 tonnes. On softer ground, we recommend a maximum load of 50 tonnes.
Our Ground Mats are composed of 100% recycled HDPE, meaning they are among the most eco-friendly products on the market.
Where can they be used?
Ground mats are often used as light and medium-duty temporary roadways, event flooring, overflow car parks, walkways, standing areas, and running tracks.
They are available to hire or purchase for a wide variety of projects and uses, including:
Stadiums
Sports grounds
Markets
Fairs
Parks
College grounds
Festivals
Construction sites
Television and film sets
How Ground Mats work
Ground Mats can be installed as a single path or two parallel tracks, depending on the customer's needs. They are exceptionally practical and convenient, and their relatively small size makes them ideal for storage and transportation.
Weighing just 39kg, they can be comfortably handled by two operatives and quickly bolted together, without tools, using unique pedestrian-friendly connectors.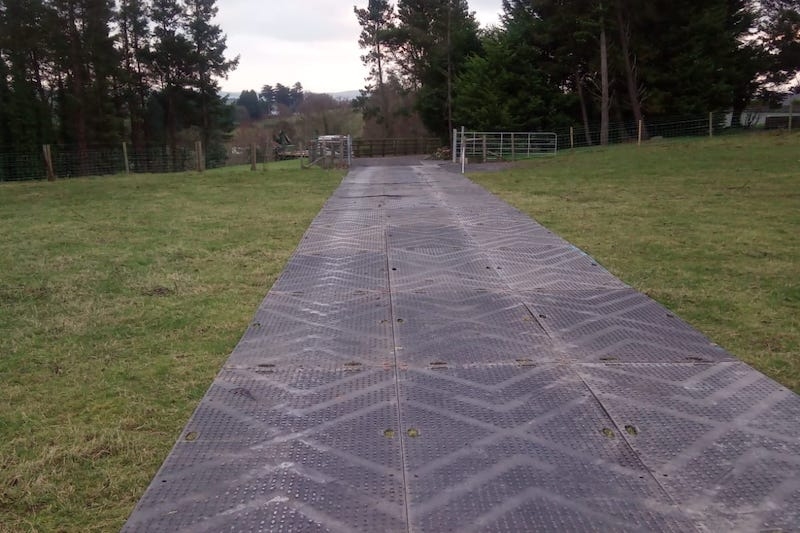 Versatile support for walkways, cars, and commercial vehicles
Whether your next project is in a public park, stadium or college ground, our Ground Mats are endlessly versatile and hard-wearing and can provide a solution to your ground protection needs.
They provide a clean, dry, environmentally-friendly way to direct traffic, machinery and footfall, all while protecting the Earth below us. We offer year-round, 24/7 service as well as a free onsite survey for all customers so contact our team of experienced ground protection specialists today.
Our Ground Mats are just one of four ground protection solutions we offer. We've also explored TuffTrak, Aluminium Trackway Panels, and TerraTrak Plus in this series of articles, so take a few moments to discover more about these products too.