Ground Protection Ireland is an Irish-owned and operated company specialising in temporary access solutions and surface covering systems.
We offer 24/7 delivery and installation of plastic and aluminium ground mats, roads and walkways, designed to protect and preserve even the most vulnerable indoor and outdoor surfaces. From marshlands to dense forests and bogs, our access and bridging systems allow people, heavy-duty vehicles, and machinery to safely navigate even the toughest terrains.
Every project is unique, which is why we offer four core products that are designed to meet a wide variety of needs:
In this series, we take a closer at each of them outlining the key features, benefits, common uses, and environmental aspects of each one, continuing in this article with our Aluminium Trackway Panels.
Aluminium Trackway Panels – Temporary Roadways For Heavy Industrial Vehicles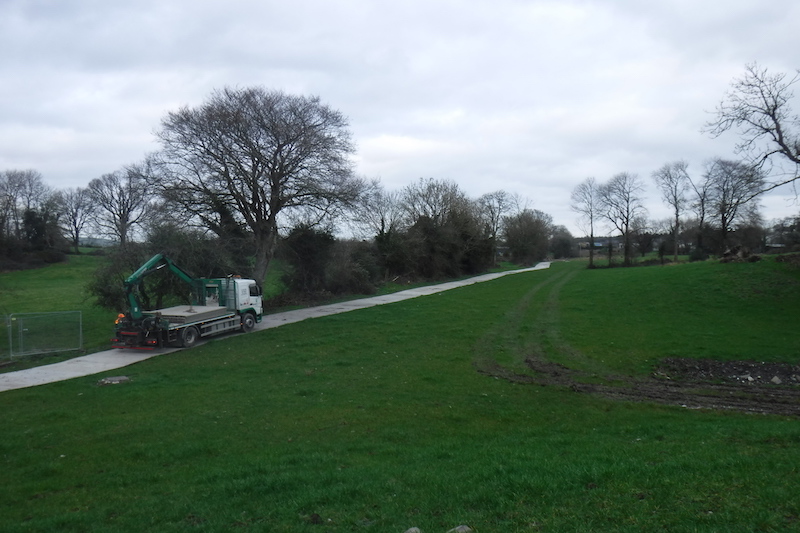 Key features of Aluminium Trackway Panels
Our versatile and hard-wearing trackway panels can be used to create temporary roads virtually anywhere.
The connected panels form a ground-hugging articulated joint that follows the contours of inclined or uneven surfaces, enabling even the heaviest industrial vehicles to safely access challenging environments.
The panels feature a dual-purpose design and configuration, providing a flush, uninterrupted and slip-free platform for vehicles and people. They also have a low-profile, pedestrian-friendly topside and a deeper, more rigid underside.
This means that they are equally useful as cross-country roads, car parks, site compounds, crane pads, and standing areas. The deeper and corrugated underside is designed to provide superior mechanical grip and traction to vehicles and heavy plant machinery.
Where can they be used?
Our Aluminium Trackway Panels are perfect for wet, boggy, and undulating terrain. While they are primarily used to create temporary roads, they are also perfect for any of the following:
Compounds
Car parks
Crane pads
Standing areas
Transmission projects
Telecom installations
Wind turbine installations
Solar farm projects
Our specialised installation vehicles are equipped with a mounted hydraulic clamp system that can lay up to one kilometre of trackway in just three days, meaning that we can accommodate tight deadlines if necessary.
Example: Extra Parking For The HSE
Several months ago the team responded to an urgent request from the HSE for extra parking facilities and access routes for vehicles and pedestrians.
In the space of a single week, we built a 200-space overflow car park, two temporary roads and a slip-resistant exit walkway for pedestrians. The trackway's load-bearing capacity and its ability to distribute weight over a wide surface area meant that it could comfortably sustain the projected site traffic for the next four months.
How Aluminium Trackway Panels work
Perfect for soft, wet or inclined ground, the panels connect to form an articulated joint that allows them to follow the outline of undulating terrains. The cross panels and bolt heads are enclosed within the panels, resulting in a surface that is seamless and completely slip-resistant.
The panels are extremely strong and stable, providing a 3.0 metre-wide road that is capable of supporting loads of up to 15 tonnes per axle. Not only that but because the panels can be installed in multiple configurations, there is ample scope to increase the load-bearing capacity if needed.
Some of the configurations that are possible include single or double-width roadways, complete with turning circles and passing bays, as well as large compounds and car parks. Our trackway panels safeguard against expensive restorations while facilitating safe and effective passage for people and site traffic.
Temporary Access Through The Toughest Terrains
If you need a temporary roadway or a ground protection solution for a location with tough terrain, our Aluminium Trackway Panels should offer you the solution you need. They provide a clean, environmentally-friendly way to get the access you need while protecting the environment at your project location.
We pride ourselves on offering year-round, 24/7 service by our team of seasoned professionals, as well as a free onsite survey for all customers so get in touch with us today and let us help you find the perfect solution for your ground protection needs.
Our Aluminium Trackway Panels are just one of four ground protection solutions we offer. We've also explored TuffTrak, TerraTrak Plus, and Ground Mats in this series of articles, so take a few moments to discover more about these products too.