Whether you're hosting a huge outdoor event or you're set to break ground on a massive construction project that will impact lives for generations, one thing is clear: finding the best ground access solutions to accomplish goals like these can be tricky.
But taking the time to choose the best solution is worth the effort – the right ground access solutions can revolutionise your ability to work, build, satisfy attendees, and get the most from your site or event.
In this article, we examine the essential aspects to consider when selecting the best ground access solution for whatever your desired outcome may be.
Understanding your requirements for ground access solutions
It is important to consider several aspects when choosing ground access solutions:
Load capacity plays a pivotal role in the selection of ground protection materials, as it determines the maximum weight that a particular material can bear. It is essential to carefully assess and identify a solution that aligns with the specific weight requirements of your project or event, ensuring that the chosen material is robust enough to withstand the anticipated load without compromising safety or causing damage to the underlying surface.
Durability is a paramount consideration when choosing ground mats, as certain materials exhibit superior longevity compared to their alternatives. Whether you are embarking on a temporary project or a long-term endeavour, it is crucial to prioritise selecting ground mats that are built to withstand the rigours of usage without succumbing to degradation or compromise. By opting for durable mats, you ensure a reliable foundation that can withstand the constant foot traffic and environmental elements, thus guaranteeing a secure and stable work surface throughout the entire duration of your project.
Terrain adaptability is a crucial aspect to consider when evaluating ground mats, as their design involves intricate engineering considerations, particularly about joints and treads. These seemingly subtle elements play a significant role in establishing stable footing, especially in challenging terrains characterised by rough surfaces, wet conditions, slippery areas, or soft ground. By selecting ground mats that exhibit meticulous attention to detail in their design, you can ensure enhanced stability and traction, enabling secure movement and efficient operations even in the most demanding environmental conditions.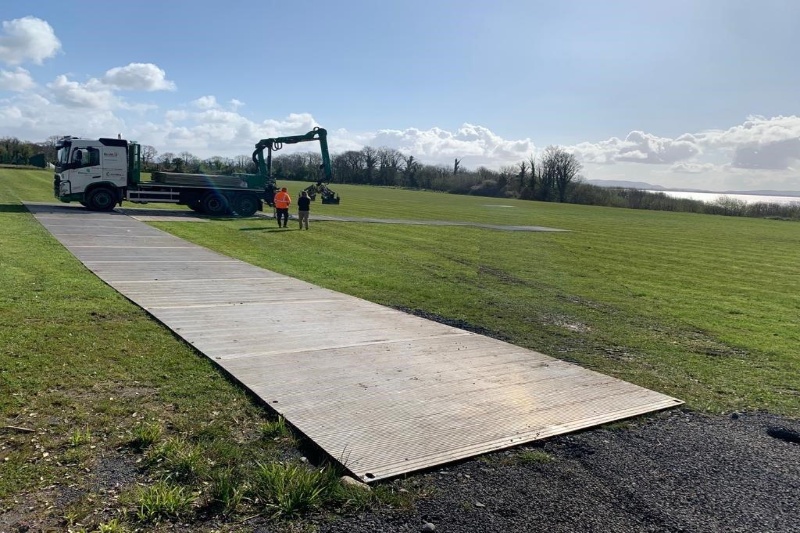 Assessing terrain conditions
Determining the most suitable access solutions for your terrain requires meticulous evaluation. Begin by assessing the stability of the ground, examining whether it is prone to crumble underfoot or features numerous embankments and slopes that necessitate careful navigation. These factors serve as indicators of whether comprehensive road construction is necessary to facilitate the movement of vehicles and individuals effectively.
Moreover, environmental impact should never be overlooked, even when dealing with relatively manageable terrain. It is imperative to select access solutions that prioritise the protection of workers, attendees, and equipment, while also ensuring the preservation and integrity of the underlying ground. By opting for access solutions designed with ecological considerations in mind, you can minimise the risk of leaving behind an environmental disaster and cultivate a more sustainable approach.
Considerations – load capacity and weight distribution
Understanding the weight of your vehicles and equipment, as well as accurately estimating the number of attendees you'll be hosting, holds paramount importance when managing any job site.
However, these factors become even more critical when it comes to selecting appropriate ground protection solutions. It is crucial to recognise that products like ground mats have specific load ratings and limitations, and exceeding those can lead to potential damage or compromised safety.
By diligently considering and acknowledging these factors, you can ensure the suitability of the chosen ground protection products, safeguarding both the integrity of the ground and the efficient functioning of your project or event.
Considerations – cost and budget
When considering various ground access solutions, it is important to maintain a balance between cost and quality. Investing in good ground access solutions can ultimately lead to cost savings as such solutions have the potential to expedite challenging projects, increase operational efficiency, and even open up new revenue streams.
Whether through accelerating construction timelines or enabling access to previously inaccessible areas, mats and trackways offer a multitude of benefits that contribute to long-term financial gains. Look at the cost of ground access solutions as an investment that can yield substantial returns in terms of improved productivity, enhanced project outcomes, and expanded business opportunities.
Ground Protection Ireland is your premier provider of ground access solutions
Ground Protection Ireland is the supplier of comprehensive ground protection and temporary access solutions that you need to get the job done right. Over the last decade, we have honed our expertise in supplying, delivering, and installing an extensive range of offerings including
Aluminium Trackway Panels enable safe access for even the heaviest industrial vehicles in the most demanding environments. Versatile in their applications, these panels prove equally effective as site compounds, car parks, crane pads, and standing areas. When the need arises to swiftly access a remote location, our Aluminium Trackway Panels emerge as the unrivalled solution.
Designed to provide a seamless and slip-free platform, these panels offer an uninterrupted surface capable of accommodating the weight of heavy vehicles, plant machinery, and pedestrians alike. Crafted specifically for challenging ground conditions such as wet, boggy, and undulating terrains, these panels excel in their ability to navigate difficult landscapes.
Ground Mats stand out as a remarkably versatile and time-effective temporary access solution, meticulously designed to facilitate seamless movement for pedestrians, vehicles, and small to medium-sized plant machinery across soft and uneven terrains. With their exceptional versatility, our Ground Mats offer robust support even in the face of the most challenging ground conditions.
Constructed from high-density plastic, these ground mats provide optimal protection for various surfaces, including landscaped turf, mud, tarmac, sand, gravel, soil, and sports grounds. Their flexibility and durability allow them to adapt to different ground conditions, while boasting an impressive load-bearing capacity of up to 50 tonnes, depending on the specific terrain.
TuffTrak is the ultimate heavy-duty mat, designed for temporary roadways and work pads in soft and wet ground conditions. With a remarkable load-bearing capacity of up to 150 tonnes, it can effortlessly support industrial vehicles, heavy plant machinery, and drilling rigs. The mats feature a patented Chevron Traction design, providing superior forward traction while minimising slippage, mud dispersal, and sideways movement.
With its unparalleled durability and performance, TuffTrak stands out as the go-to choice for challenging industrial environments. Its innovative design ensures optimal traction for vehicles and machinery, while also prioritising safety for pedestrians. Whether it's creating temporary roadways or establishing work pads, TuffTrak offers unmatched reliability and functionality.
TerraTrak Plus is the ultimate single-solution, heavy-duty flooring designed to protect natural and synthetic ground surfaces before, during, and after large-scale events. This comprehensive system eliminates the need for additional access solutions, making it the ideal choice for safeguarding parks, stadiums, and arenas. Slip-resistant properties and overlapping design ensure a seamless and gap-free walkway for both pedestrians and heavy machinery, providing enhanced safety and convenience.
TerraTrak Plus is trusted by our customers for its ability to preserve the integrity of turf while accommodating vehicle and foot traffic during concerts, festivals, markets, and fairs. With its unique locking system and uninterrupted walkway, TerraTrak Plus offers an unparalleled solution for event organisers seeking efficient and reliable ground protection.
Get in touch today
Here at Ground Protection Ireland, we simplify ground protection and access solutions. Get in touch with us today and let our products make your next job or event run smoother, and take a moment to browse through our blog and resources to find out more.