At first glance, the challenges posed by high pedestrian traffic might seem inconsequential. However, the undeniable imprint it leaves is noteworthy. As the number of individuals navigating a specific zone rises, the onus of ensuring not just their safety, but also the security of your business operations, becomes increasingly paramount. In this respect, heavy-duty ground mats are not just functional accessories; they are pivotal in ensuring the well-being of your staff, guests, and the surrounding environment. In this article, we delve deeper into the intricacies of selecting the most suitable mats tailored for various high-traffic scenarios.
Why heavy-duty ground mats are essential
Protecting the ground surface
It's something we seldom consider, but the surfaces we walk upon daily aren't immune to the wear and tear of continuous traffic. Be it expansive outdoor areas or luxurious interior spaces, all surfaces inevitably show signs of degradation with consistent use. Utilising ground mats is a proactive approach to safeguarding your investment, ensuring that both landscaping and interior flooring remain in immaculate condition.
Safety concerns
Ground mats significantly elevate the safety level of pedestrian transit. By offering a more stable surface, they effectively minimise the risks associated with slips, trips, and falls. By enhancing grip, and strategically channeling liquids away through built-in flow channels, ground mats not only make walking safer but also ensure a more secure experience for vehicles. In essence, they provide an added layer of assurance for both pedestrians and drivers alike.
Load-bearing capabilities
Ground mats are indispensable when it comes to operations involving heavy machinery. Firstly, they provide firm and reliable surfaces that not only support the weight of the equipment but also prevent potential damage to the underlying land or flooring. Beyond merely acting as a protective layer, they significantly influence logistics and maintenance operations. The efficiency and safety of machinery operation and maintenance are considerably enhanced when operators and technicians can confidently work, knowing they have a secure and stable footing underneath.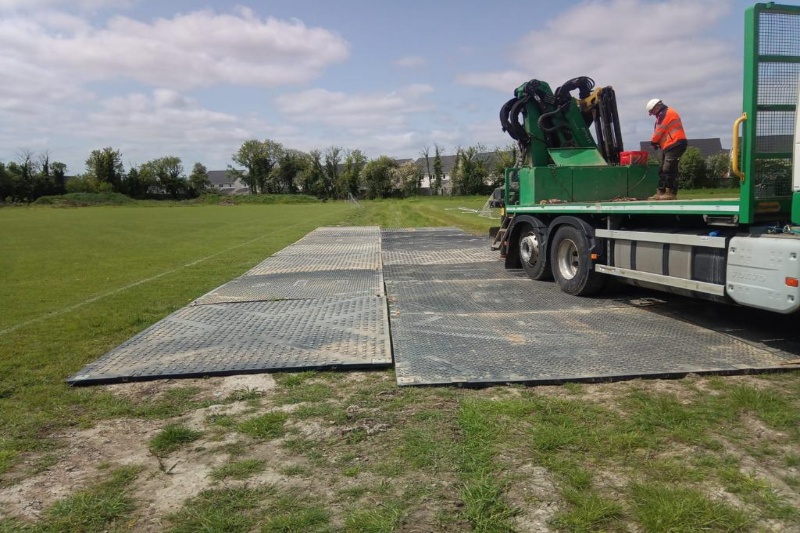 Goals to consider when choosing heavy-duty ground mats
Material
Ground mats come in a variety of materials, each tailored for particular applications, and each material brings its unique set of advantages. HDPE (High-Density Polyethylene) is a prime example. It's not only lightweight and robust, but it also boasts properties like chemical inertness and non-conductivity, making it ideal for certain environments. In contrast, aluminium ground mats offer a level of ruggedness that stands resilient even under the most challenging working conditions, ensuring longevity and durability.
Traction design
Mats ought to have design elements intentionally crafted to mitigate the risk of slippage. For example, incorporating raised surface textures and chevron patterns can significantly enhance traction, especially in environments where moisture or mud is prevalent, ensuring a safer surface for users.
Weight and portability
The mats you choose should prioritise ease of installation. It's advisable to opt for lightweight products which can be efficiently managed and set up by a team of just two people. Not only does this streamline the installation process, but it also presents a cost-effective solution by potentially reducing transportation expenses.
Connectivity options
Mats deliver their best performance when they function seamlessly as a unified system. However, it's equally important for them to be versatile enough to adjust to varied terrains and specific job site layouts spontaneously. When making a selection, it's advisable to choose mats equipped with user-friendly, configurable connection mechanisms that can be easily assembled or linked without the need for specialised tools.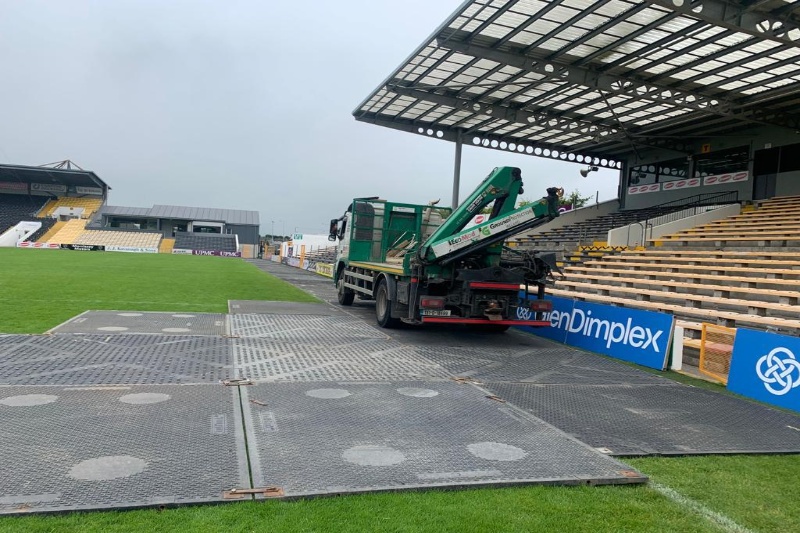 Why TuffTrak panels are the ideal heavy-duty ground mats for high-traffic environments
Enhanced load-bearing capabilities catering to a range of industries
Concerned about the capacity to handle heavy weights? Push those worries aside. TuffTrak is engineered to effortlessly support loads of up to 150 tonnes, ensuring reliability even under extreme conditions.
Unique features
While design plays a pivotal role, it isn't just about aesthetics. TuffTrak ground mats are designed to optimise traction through specialised surface features. A notable mention is their patented Chevron Traction design that significantly amplifies grip. Additionally, they come dual-sided: a low-profile surface ideal for pedestrian movement and a high-profile one optimised for vehicular traffic.
Eco-friendly, safe material
Choosing TuffTrak is a step towards reducing your environmental impact while simultaneously enhancing work efficiency. Crafted from a chemically inert and non-conductive HDPE blend, these mats provide a safer ground solution. Notably, they are made using 100% recycled materials, emphasising sustainability.
Versatile enough for every use case
TuffTrak mats are adaptable, and designed to conform to almost any terrain or environmental condition. This versatility has cemented their reputation as the go-to choice in sectors like renewable energy, civil engineering, construction, and other demanding industries.
Cost-effectiveness
One of the prime concerns on job sites is the expense associated with transportation. With each TuffTrak panel weighing a mere 39 kg, it translates to significant savings on fuel and reduces the manpower needed for installation, optimising overall project costs.
Ground Protection Ireland is your provider of heavy-duty ground mats
Traffic is diverse, encompassing various types and intensities – but a common need for all is a stable foundation to ensure smooth movement. The decision to select the appropriate heavy-duty ground mats tailored to your unique requirements can be the pivotal factor determining your project's success or challenges.
With an extensive array of options tailored to different needs and a track record of successful deployment in high-intensity industrial settings, TuffTrak stands out as the optimum, cost-efficient choice.
To make the most of your operational areas and ensure top-tier ground protection, reach out to one of our specialists at Ground Protection Ireland today to find out how TuffTrak can guide you towards optimising your job sites.
Don't forget to also check out our blog and resources for the latest news and developments in ground protection and temporary access solutions.