Maybe you're about to film the next Star Wars or perhaps you want to create an amazing indie documentary rich with scenes of remote coastal terrain. No matter why you want to film on Irish beaches, you've made a smart choice – and you're far from the first visionary who's come here to make their mark. But that doesn't mean the trip ahead will be easy. Filming on beaches takes work, and Ireland's characteristically rugged terrain demands you protect your cast, crew, and gear.
In this article, we explore some tips on how to tackle your next creative project on location on Irish beaches, along with how our temporary access solutions can go a long way toward helping.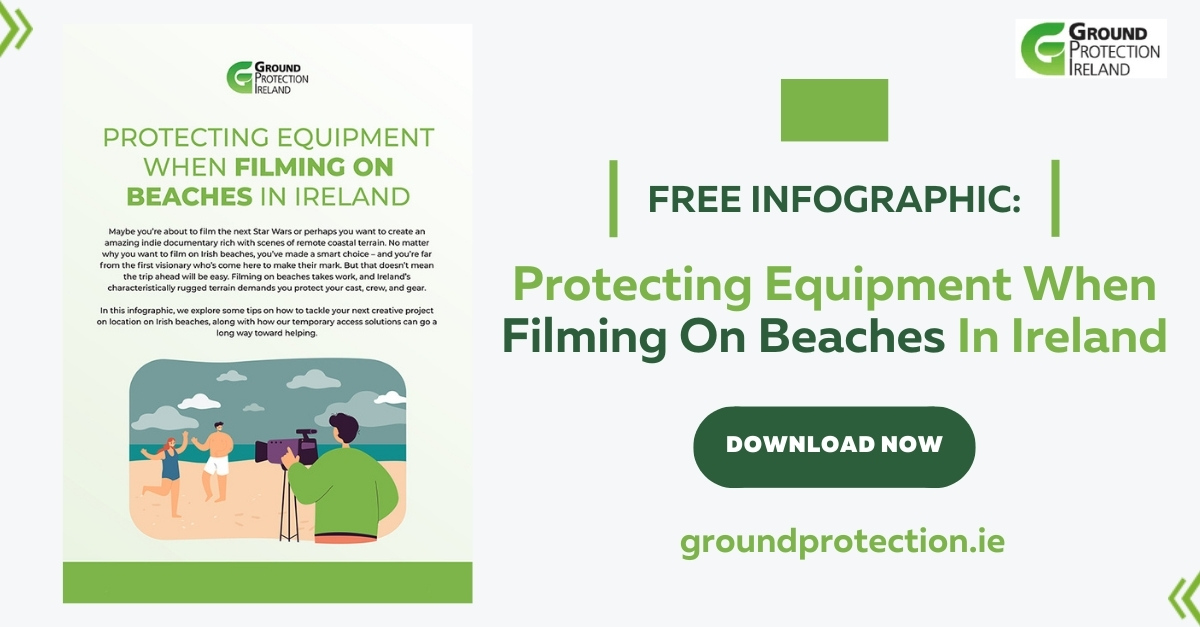 Filming on beaches is a difficult job
Dealing with challenges like lighting, glare, and wind noise is tricky under the best conditions – but it's 1,000 times harder on the beach.
Here are some practical tips and tricks to keep in mind when you want to capture the shoreside scenery:
Use filters to create an immersive atmosphere: Several different types can help you achieve the look you're going for with your beach shots – Some are necessary on high-glare days, while others make certain tones pop even more while you're shooting against overcast skies
Protect your gear from water damage and sand: Waterproof your camera and lenses if possible, and use a lens hood or other barrier to protect against salt spray and grit
Plan ahead: The beach can be a difficult environment to shoot in, so it's important to prep as much as possible. This includes everything from scouting locations in advance to having a backup plan in case of bad weather
Ground Protection & Access Solutions For The Film Industry
The best Irish beaches to shoot on
Everyone's got their aesthetic sensibilities, but few critics would find fault with these ten locations:
Ballybranagan Strand is a hidden gem located in County Cork. This beach is popular with those who want to escape the hustle and bustle of city life, which also makes it a fine place for uninterrupted shots.
Brandon Bay has many beaches which are popular with swimmers, anglers and surfers alike. It is the perfect place to relax and plan the next take between capturing the stunning scenery.
Downhill Beach is full of absolutely perfect filming locations. This County Derry fixture includes miles of sand, cliffs, and shoreline that make it easy to find an interesting viewpoint almost anywhere.
Inch Beach is probably one of the prettiest beaches in the area. It's popular with everyone from surfers to dog walkers, making it one of Cork's leading must-shoot spots.
Mizen Head Peninsula is a sparsely populated peninsula of outstanding rugged beauty. Not only is it the furthest south you can go without leaving Ireland, but this craggy location is also an amazingly iconic spot.
Pilmore Estuary is a study in contrasts – a grassy bird sanctuary that comes right up against shallow sandy beaches. It's a great place to shoot if you like a bit more visual variation in your backgrounds.
Cork's Ring Strand is tidy and quaint – so bring your wide-angle lens for a full shot of the idyllic Victorian Coastguard Station, sloping hills, and undisturbed footpaths.
Rossbeigh Beach sits near the village of Glenbeigh on the Ring of Kerry. This long strip of sand stands out for its far-off mountain views and nearby forests, making it a versatile area for all-day shoots.
County Kerry's Inch Strand was the filming location for movies like Ryan's Daughter. The views across Dingle Bay make it a great spot for truly unique imagery.
Last, but certainly not least, is Wexford's Curracloe beach, which is famous for being the location of the nightmarish opening scenes of Steven Spielberg's 1998 masterpiece Saving Private Ryan.
Protecting your crew and equipment when filming on beaches
Now that we understand the complexities of shooting on beaches, along with a rundown of the best ones that Ireland has to offer, it's time to consider how to protect your crew and your equipment when the cameras start to actually roll.
Sunlight isn't always your friend
The sun can be a difficult element to work with when filming on a beach. The glare coming off the water and sand can make it hard to see the screen, and the heat can make it uncomfortable to stand in one spot for too long.
Using a sunshade or holding a piece of cardboard over the screen can help, as can taking breaks in the shade. If you'd rather not have your actors get sunburned, a sunshade will give them a cooler spot to rest.
Be ready to fight the wind
The wind is another consideration, as it can blow sand and salt water onto the camera and lens, causing damage. It can also make it difficult to hear audio.
Using a wind cover or holding something over the microphone can help mitigate this. Also, shore up your tripods with sandbags or consider building foam-board shelters for your camera and sound operators – they've already got their hands full with rigs, tripods, and boom mics, so why not make their job easier?
Keep your kit covered
Covers and splash bags are critical for shielding the camera and lens from the elements. Remember that it only takes a single grain of sand to make your lens, shutter, or focus mechanism seize up and become a total nightmare.
Bring filters
Using a clear or UV filter can help protect the lens from scratches and saltwater damage, but it also adds an aesthetic touch: Filters are ideal for cutting down glare, making them essential when trying to avoid washed-out footage.
Set up a stable vantage point
Carbon fibre legs are a good choice for beach photography, as they are lightweight and won't rust if they get wet. Strength is everything, and saltwater can corrode aluminium, making carbon fire a must if you're actually shooting from the water.
Arrive ready to keep things clean
Bring distilled water and rags – This simple combo is ideal for cleaning the camera body and lens as well as any other gear that might get grimy. Remember to use a lens-appropriate cloth, and never use non-distilled water to clean your optics.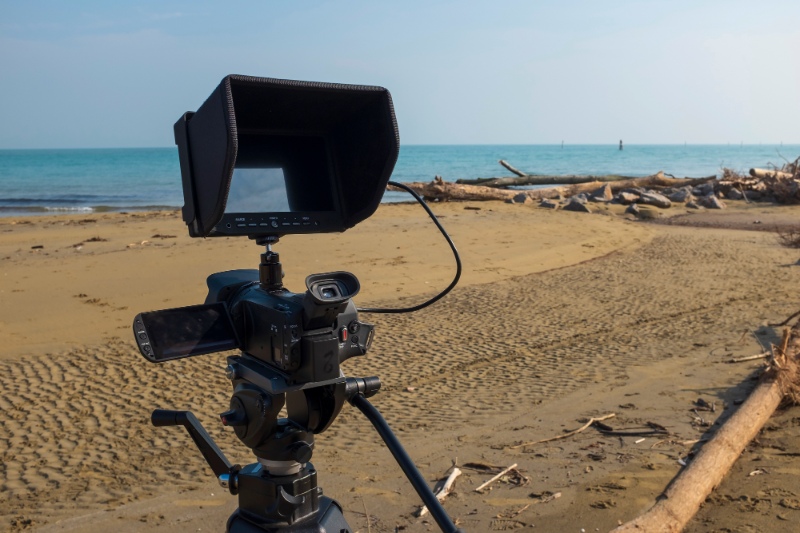 Our temporary access solutions for perfect for filming on beaches
Any successful film shoot revolves around excellent organisation on the part of its crew. Building a staging area can keep things going as smoothly as possible – but you can't establish a firm foundation on sand alone!
Our ground protection and temporary access solutions make it easy to create a command centre for any shoot. Navigate Ireland's best-hidden beach locations as you uncover new vistas and viewpoints – and stop worrying about whether your gear, cast, and crew will keep up.
From bogs to beaches and shifting sands, Ground Protection Ireland's Ground Mats let you reach remote areas fast, get Oscar-winning material packed with uninterrupted tracking shots, and then get out without leaving a trace that you were ever there.
Our Ground Mats are a versatile and time-effective temporary access solution that allows pedestrians, vehicles and camera-mounted dollies to access and traverse soft, remote and uneven terrains – perfect for filming on beaches.
As a bonus, Ground Mats are available both for sale and for hire, so no matter what your budget is, you can ensure they are available for the trickiest of shoots.
Reach out to us today to learn how we can help your next film blow the competition off the beach and out of the water!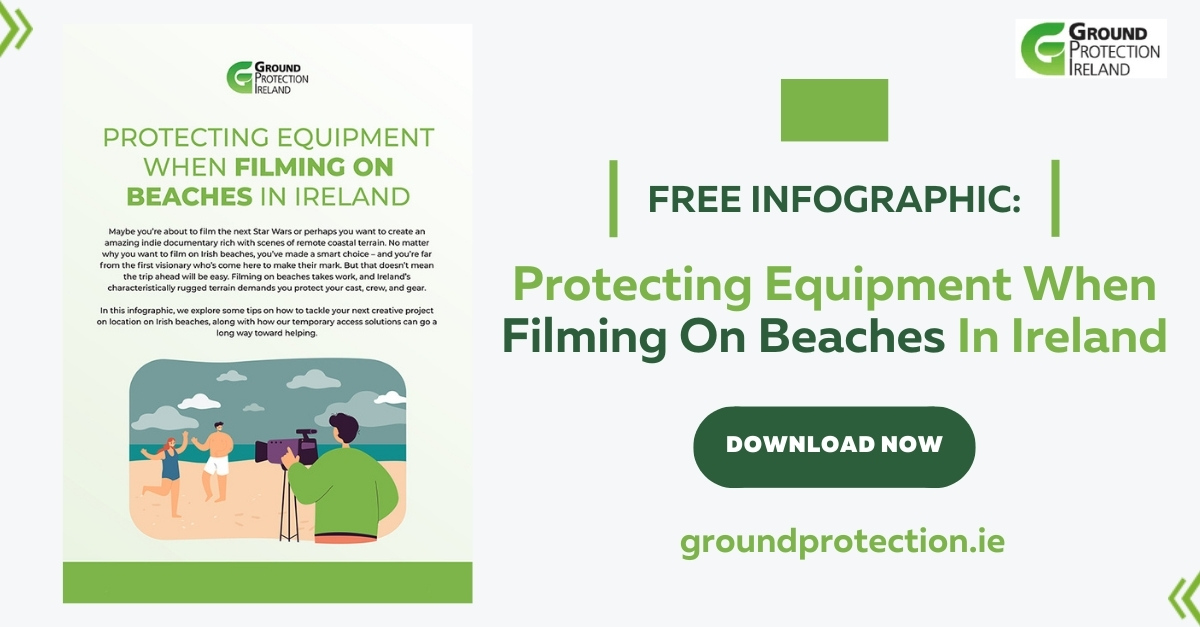 Ground Protection & Access Solutions For The Film Industry