Since the nation reopened again, event planners have been busy organising public fairs, markets, gigs, festivals, matches and all kinds of outdoor events.
People have been enjoying getting out and about, making up for lost time with a jam-packed calendar of events, and it's showing no signs of slowing down as the autumn now approaches.
Today we are sharing some tips for organising public fairs and markets, including how to write a 'script' that will help you stay on top of everything during the event.
Our guide to organising public fairs
Be organised
Have a clear structure in place from the beginning
Define your goals, objectives and budget
Seek permits
Build your team
Prioritise diverse skill sets
Make sure each person knows exactly what their duties and responsibilities are
Define agreements
Make sure everyone agrees about what happens within the team
Delegate one main person who is responsible for making final decisions
Check electricity supply
Most public fairs will need a reliable supply of electricity, so make sure you check this out in advance
Organise the catering
Have a variety of different food stalls to suit different tastes (and make sure to include some allergy-friendly options)
Make sure there are enough water stations to keep the crowd hydrated
Public fairs need temporary access solutions
One of the most important and often overlooked aspects of public fairs is the temporary access solutions that are needed to ensure the safety of both the workers and the public.
Ground Protection Ireland is the number one supplier of such temporary access solutions, including:
Keep things clean and hygienic
Make sure that
(a) you have enough toilets to cater for the crowd, and
(b) a dedicated team of people to keep them clean and stocked with toilet paper, hand soap, and other essentials.
Also, don't forget to have temporary toilets in place for the setup crew!
Place hand sanitiser stations at various locations on the event grounds (e.g. food stalls, amusements/funfair ride exits, animal/livestock pens, etc.)
Use disposable/compostable cutlery and provide plenty of waste and recycling bins.
Public fairs need marketing plans
To help ensure a good turnout, you have to promote your event to the public. There are many ways to do this, including:
Posting on social media
Advertising in local newspapers
Asking your friends and family to spread the word
Plan a 'script'
Breaking down each event will help you to stay on top of things and ensure that nothing gets overlooked.
In the first part of the script, you should include the contact details of all employees and suppliers involved in the fair, as well as important event information such as opening and closing times.
The next section is an overview of the tasks and actions (the who, what, where etc.) that are involved in the event, including:
Date and time
Location
Activities
Responsibilities
For a public fair, this section might include things like:
Building the stalls
Delegating parking attendants
Decorating the area
Coordination volunteers
Opening the doors in the morning and locking up in the evening
Cleaning up the stalls
Floor plans
Delivery routes
Opening times and access for suppliers
Creating and carefully following such a list should ensure that every major box gets ticked and no vital aspects slip through the cracks of your planning.
Public fairs need crowd management
To avoid the dreaded bottlenecks in high-traffic areas, it pays to be proactive and organised when you are laying out your map.
To manage pedestrian footfall effectively, you can rope off certain areas or place stickers on the ground to indicate where people should and shouldn't go.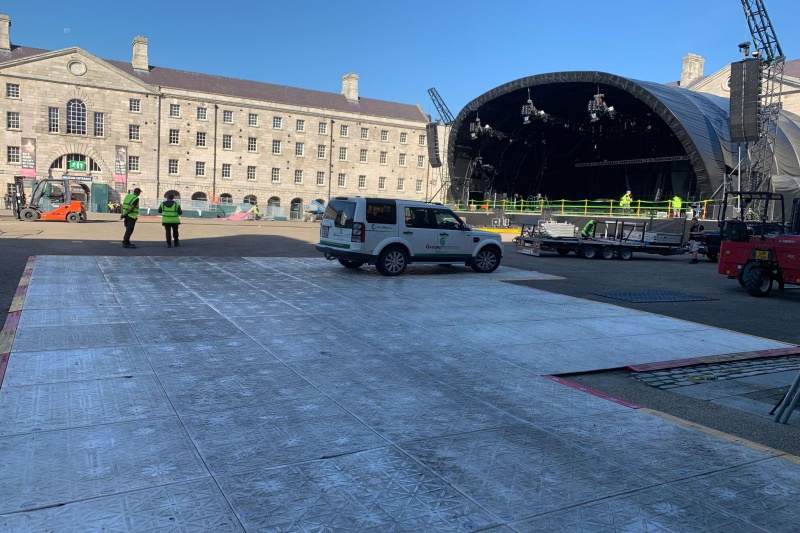 Our safe and secure access solutions for public fairs
Our team at Ground Protection Ireland provide the easy, cost-effective solutions needed to give pedestrians and fair-goers a safe and structured route through your fair or market.
Our range of ground protection products and temporary access solutions include:
From green fields to outdoor arenas, our ground mats and panels allow pedestrians and cars, all the way up to heavy-duty vehicles and machinery, to safely navigate the terrain without causing damage to the earth below.
We pride ourselves on offering year-round, 24/7 service by our team of seasoned professionals, so get in touch today to find out more about our range of temporary access solutions and how they can help you plan safe and successful events.
Don't forget to also check out our blog and resources page for industry-leading trends and tips for safe event planning.