The question for many Irish homeowners right now is how they can achieve energy independence in the face of skyrocketing costs. A series of new solar grants could be the answer.
Despite our reputation for cloudy skies, there's more than enough sunshine to go around and power your green solar installation. Even better, there are several solar grants to help homeowners go green.
In this article, we explore how these grants might make it easier to foot rising energy bills while at the same time enhancing your property by making it more sustainable.
Ground Protection & Access Solutions For Commercial & Domestic Solar Installations
How do solar grants work in Ireland?
The Sustainable Energy Authority of Ireland (SEAI) operates the Solar Electricity Grant program to help property owners offset the costs of getting up-to-date with green energy. This grant can provide a one-time payment to any homeowner who wants to purchase and install a photovoltaic (PV) solar panel for residential use – including landlords and private owners.
The nice thing about this grant is that it works via Electronic Funds Transfer (EFT). Once you've applied and received approval, you'll get the money straight into your account so you can pay your fitter directly – your installer just needs to be registered as a valid SEAI-recognised entity.
A word about solar PV systems
Not all solar systems are PV systems. Some are classified as solar thermal collectors, and these aren't eligible for the grant.
So what's the difference? Well, the easiest way to understand it is to think about what each type of system does.
Solar thermal collectors use the sun's energy to heat water passing through their inner coils, outputting hot water. Grant-eligible PV systems create electricity upon being exposed to light – so you'll need to connect them to your electric water heater if you want to take a bath!
Most domestic PV panels get mounted to roofs. If you've got extra room in your garden, however, you can opt for a standalone structure, like a covered awning with solar on top.
The amount of space you can free up determines how much electricity you'll generate. Given two installations that receive the same amount of sun exposure, the one with the larger footprint – and the greater number of connected panels – will output more power.
What do I need to qualify for solar grants?
If you're ready to start generating your own electricity with the help of an SEAI grant, there are a few steps you need to take first:
Make sure you own the property
You must be the homeowner or the landlord if you want to add PV panels to the property.
If you're a tenant who wants to save on electricity bills, you'll have to ask your landlord if they're interested in having solar panels installed – but you cannot go forward with anything unless you're the homeowner.
Make sure the property is ready
The property needs to have been built and lived in before 2021, calculated based on the date your electricity meter was installed. This grant is for improvements only, which partially explains why you'll need to get a Building Energy Rating (BER) certificate after the work is complete in order to have your payment processed.
Plan the job properly
Solar panel installations require extensive wiring, and this grant is only for people who commit to doing things responsibly.
To be eligible, you'll need to find a Safe Electric-registered electrician to handle the fitting.
Get ready to tie into the network
You may crave an off-grid lifestyle, but nobody is an island. To hook your panel installation up – and potentially sell energy back – you need to fill out the ESB Networks NC6 form.
This is your formal application to link up with the Electricity Distribution System, and you must submit it before the installation starts, so plan for an extra few weeks to get this done before you intend to have your solar panels up and running.
How much are solar grants worth?
Grant programs usually capture attention due to their high maximum values. For instance, you might have heard that you can get up to €2,400 for your installation.
The thing to remember here is that this grant's amount varies. Not everyone will receive the maximum payout. The award scales on a pro-rata basis that reflects your panels' generating power (measured in kWp):
€900 per kWp for systems rated 2kWp and below, and
€300 extra for every further kWp above 2kWp, maxing out at €2,400 total for a 4kWp system.
What do solar grants cover?
Solar grants can offset both the material costs of the panels and the labour involved in their fitting.
Since most systems cost more than the grant's maximum, you'll likely end up paying a significant amount out of pocket. In other words, anything you can do to reduce costs, like preparing the site in advance to make the work go more smoothly – is a good idea.
How do I apply for solar grants?
You can take your first steps into the solar world by filling out the application on the SEAI web portal.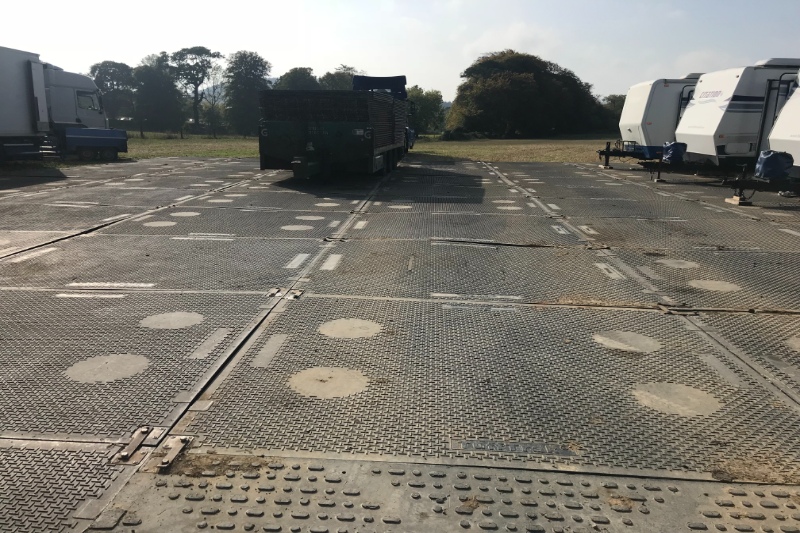 Get the access you need and protect the ground when installing solar panels
Solar panels are quite hefty. While this may not be some massive public works project, it will still require heavy construction, which can damage your garden, and your property and make for slow going.
Thankfully, Ground Protection Ireland has the product to provide you with temporary access solutions and ground protection while your home is being fitted for the green revolution.
Our TuffTrak heavy-duty ground mats make it easy to protect your property while your solar panels are installed. You can lay down an even, slip-free work zone for your installers, their crew, and all the machinery they'll use to get the job done.
Depending on the terrain, TuffTrak ground mats can support up to 150 tonnes. They are made from a chemically inert, non-conductive HDPE that cannot be punctured.
This makes them particularly popular for projects in the construction, civil engineering and renewable energy sectors – and fitting your home with solar panels is a perfect example of exactly this kind of activity.
If you want to take control of your energy bills while at the same time protecting your property from the solar panel installation process, then you should get in touch with us today and explore how your ground protection solutions can help.
Don't forget to also check out our blog and resources to witness how our temporary access solutions make a difference all over Ireland.
Ground Protection & Access Solutions For Commercial & Domestic Solar Installations